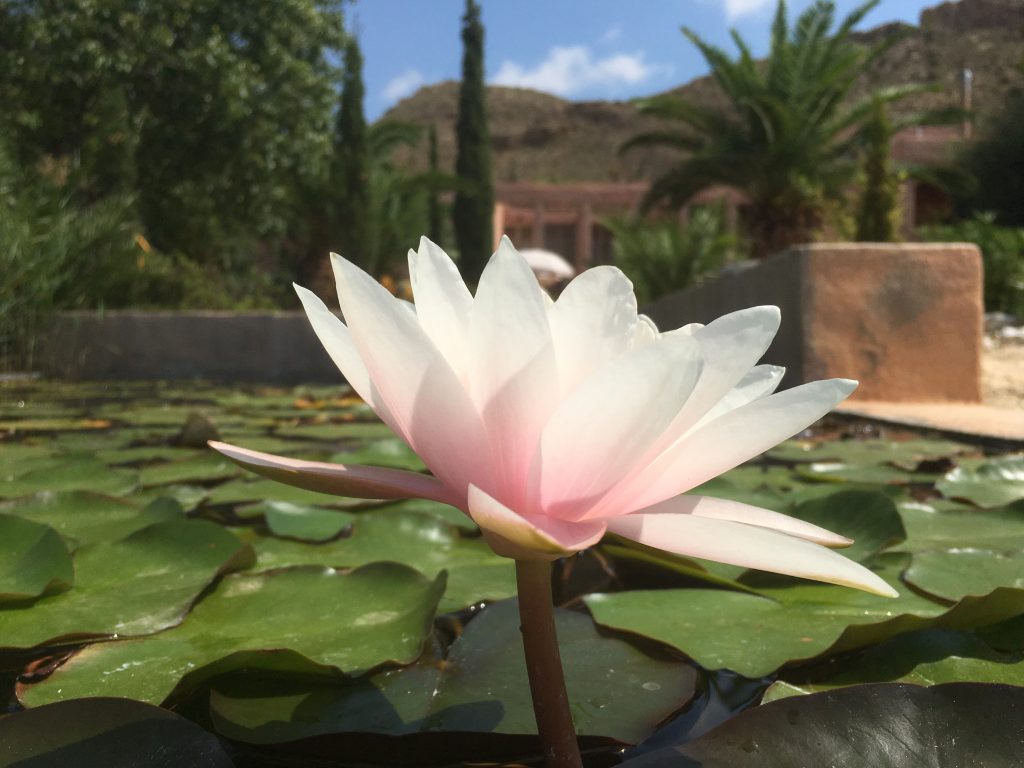 Yoga Holiday in Almeria, Spain
Hatha Yoga with Diana Shipp
August 31st – 7th September 2019
Fly to Almeria airport – Only 30 mins from Airport to the Yoga venue.
Join me at this fabulous yoga venue in south-east Spain for a very special week of yoga. Rest, restore, rejuvenate and re-programme your mind for a positive new start in life. My holidays are friendly, fun and inclusive with yoga that is suited to all – you can work at your own level.
With it's lovely accommodation, two pools, and many places to relax in the shade, a truly peaceful atmosphere, three scrumptious meals a day, teas and coffees at any time and a well-quipped yoga studio, this has become one of my top favourite venues of all time. It's quite simply magical!
Almeria is one of Spain's least visited regions. It is a dramatic, semi-desert, with imposting mountains and dazzling sea. The yoga venue is on the edge of one of Europe's most remote and beautiful natural parks, the Cabo de Gata, one of the last unspoilt stretches of Spanish coastline.
The venue is in a peaceful, isolated location, but within walking distance of the lovely traditional local village. Enjoy staying in this house of award-winning modernist design, in its lush gardens, with a natural swimming pool fed by spring water and filtered by reed beds.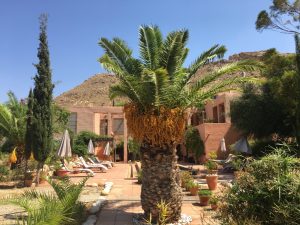 There is also charming accommodation in the cortijo or farm just a couple of hundred metres from the main house. It had it's own swimming pool and covered outdoor space, where we will meet for yoga. The venue is run by Jane and her team at Huzur Vadisi Yoga Retreats.
Visit the wonderful wild coastline of perfect half-moon bays, hidden coves, bizarre volcanic rock formations and spectacular flora and flauna. There are several sandy, secluded beaches within half an hour's drive from the venue.
There are lovely places to visit on our day off, including wild beaches in the national park or the more lively San José. Parasols and a picnic are available from the venue for a day of swimming and sunbathing.
cost:
Deposit of £250 will secure your place. Special Early Bird deal: Save £50! If you pay the full balance by March 8th 2019, you pay a balance of only £595 to share, or £710 for a single room. All rooms are en-suite.
Includes three delicious vegetarian meals per day. Vegan, gluten-free and other diets can be accommodated.
Transfers from the airport take only 30 minutes and a taxi costs will be shared amongst the whole group. In 2018, the transfers (there and back) worked out at only €40 per person.
To book: email diana@kailasamyoga.co.uk
Diana Shipp is a very popular and experienced yoga teacher –  with British Wheel and Sivananda  teaching qualifications. She has been running holidays and retreats for the past 16 years – including at her own yoga centre in India: Kailasam Yoga.  Don't delay – her holidays usually book up fast!