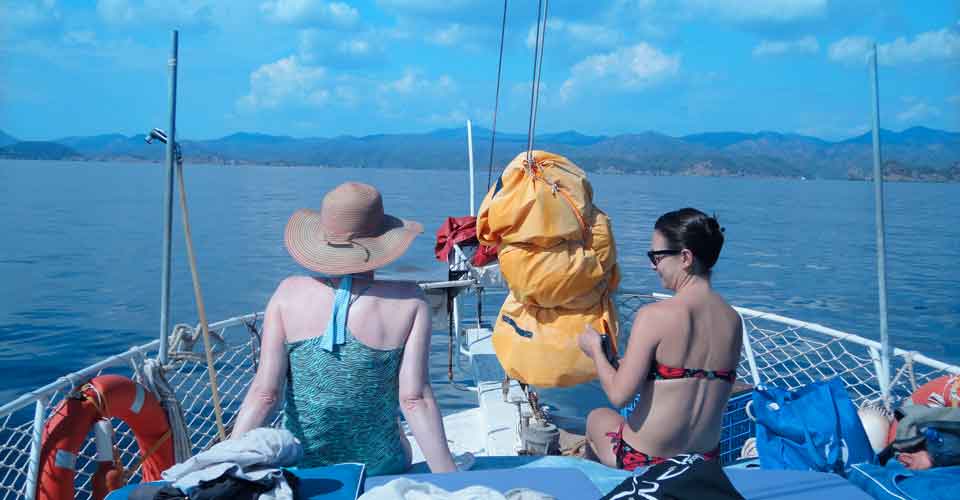 Hatha yoga holiday with Diana Shipp in Mediterranean Turkey
Join Diana for a summer yoga holiday in idyllic and peaceful Mediterranean Turkey. August 29 – September 2016. Nearest airport is Dalaman, 35 minutes away. Single £595, sharing £495, all en-suite. To book: email diana@kailasamyoga.co.uk or telephone +44 (0)1362 683616.
Treat yourself to a week of relaxation and yoga with like-minded people. Spectrum is a real home-from-home in the countryside. On the edge of popular Dalyan village.
A yoga holiday with it all: delicious, vegetarian Turkish home-cooked food; glorious sunshine, interesting days out; boat trips and swimming; a wonderful sandy beach nearby; air-conditioned rooms. You can choose a singles or doubles room. They are arranged around the pool. Also on offer:  life-changing and luxurious therapies.
A great opportunity for time out. Reflect on life, enjoy yourself and look at things afresh.
Relaxing retreat in delightful Dalyan
The setting for this holiday is fabulous. Dalyan has a spectacular, sandy beach protected for breeding turtles. The delightful Dalyan river runs through the town with floodlit rock tombs and a short walk to the archeological site of Kaunos. Upstream is the vast Koycegiz Lake with mud baths – great fun, especially on moonlit boat tours.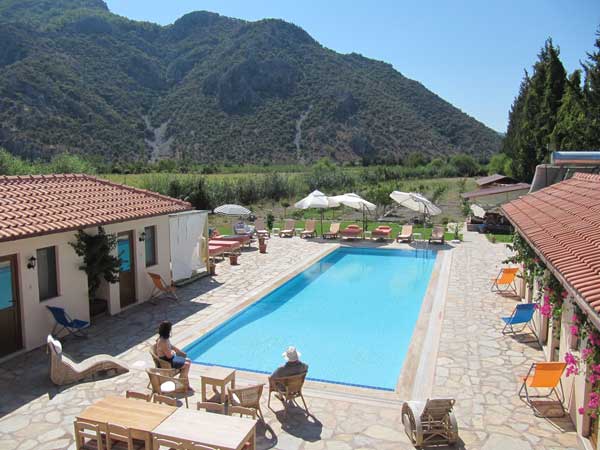 Spectrum is only 20 minutes walk from the bustling centre of Dalyan. Our hosts, Joanne and Tom, are an English couple who have made Turkey their home. Guest rooms are all en-suite and open onto the pool with splendid views of the mountains.
Catch a bus or take a river-taxi down through spectacular scenery to the beach. You'll find beach beds, umbrellas, toilets and showers at each end of the glorious, sandy bay. Shops and restaurants in Dalyan cater to all tastes, including vegetarian.
This is Diana's third time teaching in Spectrum and her eighth yoga holiday in Dalyan.
Diana has teaching diplomas from the British Wheel of Yoga in Norfolk, UK and at the Sivananda Ashram in Kerala, India. She has been teaching for 25 years and enjoys sharing with all the joys and healing benefits of the practice – spiritual, physical and mental-emotional.
The true purpose of yoga is to quieten the mind. Only then will you experience the peace and joy of your true Self. This holiday will focus on asanas (postures and sequences), breathing and pranayama, kriyas (cleansing practices), in the context of the philosophy of yoga. The purpose of yoga is not keep-fit, although regular practice will help to keep us healthy and balanced in mind and body. Diana teaches with compassion and a fun and a light-hearted approach.
Easy-to-book yoga holiday
Diana, Joanne and Tom will do all they can to ensure you return home smiling and feeling great!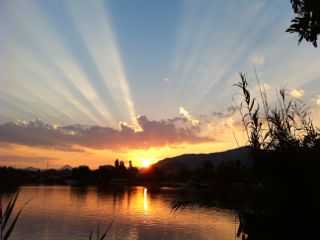 The holiday includes yoga (twice daily with one day free), breakfasts, 5 evening meals. Tea and coffee is available throughout the day.
Not included: Flights to Dalaman, airport transfers – which Spectrum will arrange for us, massages and other therapies.
For more information on Spectrum: www.spectrumturkey.co.uk 
Booking is easy: diana@kailasamyoga.co.uk or telephone +44 (0)1362 683616.
Great venue, lovely friendly people and great food. Diana's wonderful relaxing yoga, and her ability to make everyone feel at home made the week an absolute pleasure."Michele Scales, Worthing