"Letting go… and moving on"
Charney Manor three-day yoga retreat, Oxfordshire, England with Diana Shipp
Tuesday 16 – Friday 19 July 2019
Join me for a three-day summer yoga retreat in the south of England. We start the retreat on Tuesday 16th – the day of the eclipse of the full moon. This is an exciting time of change when there is no choice but to 'let go' and adopt a new and radically different creative approach.
Gentle, yet profound yoga practices will help us to consciously make positive life changes. Enjoy the physical sensation of the body through the practice of asanas. Quieten the mind's chatter with pranayama, visualisations and meditations so that you can hear the wisdom of your inner Self .
A friendly and accessible practice, suitable for all. This won't be yoga boot-camp! There will be periods of silence during the retreat, to allow us to nurture our spirit and really experience the feeling of stillness and peace. We will also have plenty of time for getting to know each other, be sociable and enjoy these special days together.
Our retreat will be held at the charming 13th Century Charney Manor Conference and Retreat Centre, near Wantage, Oxfordshire. The Centre is owned by the Society of Friends (The Quakers) and provides a quiet and beautiful setting on the edge of the village of Charney Bassett. There are delightful gardens and peaceful countryside views.
Experienced yoga teacher Diana Shipp trained with the British Wheel of Yoga and Sivananda International Vedanta Organisation in India. With an interest in the healing and spiritual properties of yoga, she also trained as a hypnotherapist. She has been teaching yoga since the early 1990s and has, for the past 16 years, run her yoga centre, Kailasam Yoga, in Kerala, as well as leading retreats worldwide.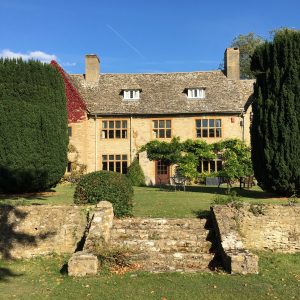 Tuesday 16 – Friday 19 July 2019
Venue: Charney Manor, near Wantage, Oxfordshire
Cost: Early Bird discount: Book your place with a deposit of £130 and if you pay by 11th February 2019, the balance will be £360.
All rooms – either en-suite or with their own private bathroom nearby. There is no single supplement. All rooms recently refurbished.
Pay the balance after 11th February and the balance is £410.
More about the venue: www.charneymanor.com
Charney Manor retreat
The Manor House with it's two annexes, is on the edge of the picturesque Oxfordshire village of Charney Bassett, with lovely local walks an a pleasant village pub only a few minute's walk away.
If evening silence or the 'no alcohol' rule is not for you – I won't mind if you wander down to the Chequers Inn after dinner!
The Retreat Centre is run by the Society of Friends (the Quakers) and offers comfortable accommodation – mostly en-suite – a couple of rooms have their own private bathroom accessed across a hallway, yoga and vegetarian meals are all included. Special diets such as gluten free and vegan can be catered for.
Easy access
Accessible from London Paddington – with trains every hour to Didcot. The venue have their own preferred taxi service who give Charney's guests special rates –  only £25 each way. Heathrow Airport is about 1 hour 20 minutes away by direct train. There is free parking for participants at the venue.