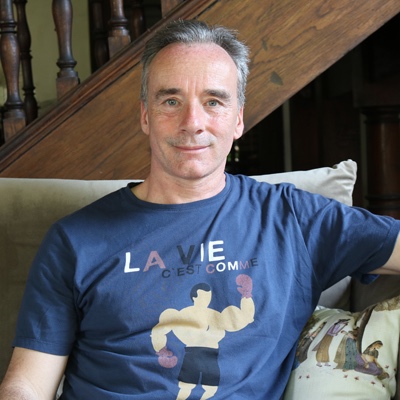 Marc Nyte Yoga Teacher
We are delighted to be welcoming yoga teacher Marc Nyte to Kailasam in March 2020.
Marc's yoga journey began in the late 1990's when he trained with his first teacher of Ashtanga yoga, Miguel Ángel Sánchez from Cataluña. Over the next decade, Marc studied with several teachers including Godfrey Devereux in Spain and Italy where he gained experience in pranayama, meditation and yoga asana that reinforced the importance of safety and ahimsa (compassion) in one's personal yoga practice.
In 2004 he commenced a 3-year British Wheel of Yoga Diploma under the guidance of Tara Fraser and qualified in December 2007.. This comprehensive course on the philosophy of yoga and its safe and effective teaching has given him a broad framework to teach effectively, appropriately and above all, safely.
Marc counts Tara as his most important and major influence on his teaching to date. He continues his yoga journey drawing on the knowledge of inspiring teachers such as Shiva Rea based in California; Serah Ruth Goldberg and Lisa Messina in Toronto; and Anna Ashby in London
Besides yoga, Marc is a fully qualified and practicing physiotherapist who is also a teacher of the Pilates method and fitness for general health and specialist populations such as those with Parkinson's, those recovering from surgery and those with cardiac and respiratory disease. He divides his time living in Toronto and London where he continues to treat patients and teach students in yoga and Pilates.
Drawing upon this broad pallet Marc teaches a dynamic class that focus on movement and its synchronisation with the breath. Classes are open to all and tailored to each individual's needs providing a safe practice in a supportive environment.
Marc Nyte at Kailasam Yoga
At Kailasam Yoga, morning classes will commence at 7.30am with pranayama (breath work), a dynamic yoga asana practice followed by meditation and relaxation. The evening classes will start at 5.30pm with an optional 30-minute self practice with guidance where needed. This will be followed by 90 minutes of gentle restorative postures and exploration of various relaxation techniques.
Marc is happy to welcome students of all – or no – yoga experience to his holiday. He will be teaching a 13 night retreat from 15 to 28 March 2020 Cost: £990 sharing, £1270 single, £1370 superior single.
See more about Marc: www.marcnyte.com