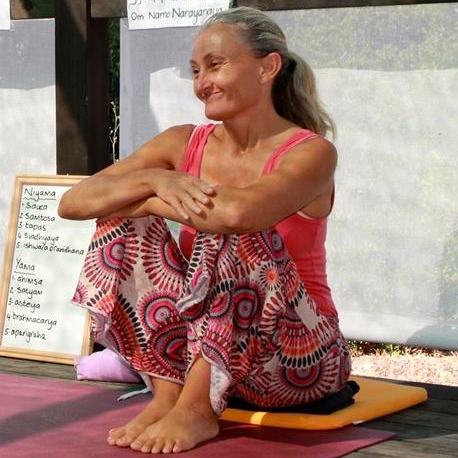 Lauren Manning Yoga Teacher
When leading retreats, it is always my aim to create and be a sacred space for students to effortlessly find the presence of stillness and an inner silence. I've been teaching yoga for 20 years and running yoga holidays and detox retreats for 14 years. I love what I do, and love sharing this world with others.
When I found yoga (or when yoga found me), I experienced the body as a doorway, into the deeper sense of aliveness I had always been aware of.
Originally from South Africa, at the age of 22, having finished university I began traveling the world, and just kept on and on… loving life on the road, and saying 'YES' to whatever Life brought my way. Although I loved the outer journey – travelling and living in different countries and cultures – for me, the inner journey was always the more profound. The inner journey has always been the more sacred.
I am an on going student of nutrition, yoga, Ayurveda and in the spiritual tradition of Advaita Vedanta (non-dual yoga philosophy), as well as in the Buddhist meditation technique of vipassana.
As a yoga teacher, my style is rooted in my personal experience – the numerous teachers I have been blessed to have had; my own journey on and off the mat; the many students who have passed through my classes – all have influenced me and the way I teach.
Initially a Sivananda-trained teacher, I have taught, lived and volunteered at a number of Sivananda centres and ashrams around the world.
I studied a combination of Ashtanga Vinyasa and Shadow Yoga with William Robertson in London, and appreciate the strengthening aspect of these powerful forms. I value and respect the preciseness of the Iyengar approach, and studied with Sharat Arora in Dharamsala, India. I have been touched by the gentleness and fluidity of a Scaravelli-inspired practice.
The softness and surrender of Yin Yoga teaches the simplicity of letting go. The devotion of Kundalini Yoga as taught by Yogi Bhajan is a reminder of the sacred. Love and sincerity flow from Anusara Yoga. The ethics and principles of Donna Farhi and the discipline of Anna Forrest are inspiring.
I teach a blend of all of the above and more, appreciating the various gems found in all yoga styles, systems and schools.
It seems that there is a time and a place for everything. In my own practice on the mat, and in life in general, I remain an ongoing student of yoga, and as such, my practice and teaching continue to be an organic reflection of the world around and within.
My classes are suitable for all levels – I give easier and more advanced options where appropriate. I believe 'level' refers more to the awareness and focus one brings to the practice rather than to performance.
I consider yoga to be a lot more than asana (postures), and my classes incorporate the other magical aspects of yoga – inviting students to immerse themselves in a yogic way of living and being.
I am currently based in Portugal with my partner, Keiron, and four ginger cats, and I continue to travel to run retreats in other parts of the world.
There is a force within which gives you life – seek that…
In your body lies a priceless gem – seek that…
O, wandering soul, if you want to find the greatest treasure, 
don't look outside – look inside, and seek that  –  Rumi
These words of Rumi ring true for me, as I have been a wandering soul my whole life. Even as a child, the Sacredness of Life was always my top priority – spending hours communing with Nature and animals, marvelling at all the beauty surrounding me.
Lauren Manning at Kailasam Yoga
Lauren is teaching a 10-day retreat at Kailasam in November-December 2016. Shared rooms are £656 and single rooms £835.