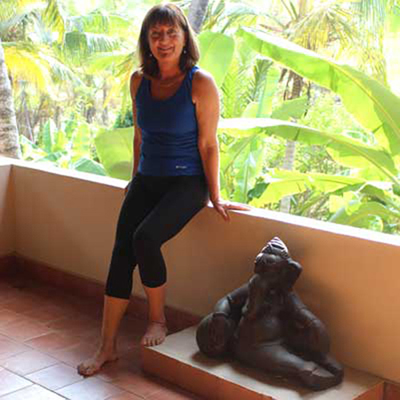 Diana Shipp Yoga Teacher
Diana, the owner of Kailasam Yoga in Kerala, has a teaching diploma from the British Wheel of Yoga (Norfolk, England). She also studied at the International Sivananda Yoga Vedanta Ashram in Kerala, gaining a further teaching diploma in January 2000.
She has been teaching yoga for over 25 years, and now specializes in leading holidays and retreats in different parts of the world.
An experienced and well-qualified teacher, Diana is both down-to-earth and imaginative as well as flexible in her teaching. Although you may feel challenged during her classes, Diana's belief is that yoga is not about achieving gymnastic-style postures, but about going deeper into postures and developing awareness, feeling the effects on your own body and mind. Her teaching is all about using the body to sill the mind – like all traditional Hatha Yoga.
She has many techniques to help you realise and experience this awareness, discover who you really are, and find inner peace. In her classes you can expect a mixture of limbering, use of breath during static and flowing posture work, prananyama (controlling the body's energies through breathing techniques), meditation, visualization and relaxation.
Diana Shipp at Kailasam Yoga and in the UK/Europe
Diana is happy to welcome people with all levels of experience to her classes – from beginners to yoga teachers.
When students tell her that they have never experienced such deep relaxations, Diana attributes this to her additional training in hypnotherapy and her interest in the spiritual dimension of life.
Diana Shipp is teaching at Kailasam 11- 24 November and 18 – 31 December 2018
£895 sharing, £1165 single and £1255 superior single
£945 sharing, £1210 single and £1295 superior single
Diana is also leading two weekend retreats in Sussex, UK 11- 13 May and 28 – 30 September 2018.
Her summer holidays in Europe will be and a week-long holiday in Periana, Spain June 30 – 7 July 2018; and a week of yoga in the wonderful Almeria Retreat in Spain from 1st – 8th September 2018.