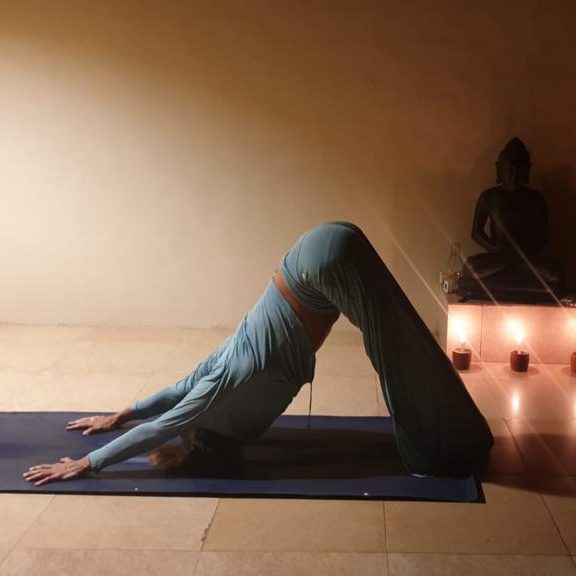 Alison Johnson Yoga Teacher
Join Alison Johnson for a 11 night Hatha yoga retreat at Kailasam this autumn.
14 – 25 November 2022.
We are happy to welcome Alison to teach at Kailasam – our oasis of calm near the Arabian Sea. She is a highly respected teacher who as been practicing yoga for over twenty years. She has been teaching for 20 years. Alison trained in India with the International Sivananda Organisation, where she qualified to advanced level.
Her classes are based on a classical form of Hatha Yoga which emphasises the importance of the breath alongside the practice of postures. The classes follow a pattern which helps you improve over the ten days of the holiday.
Alison is also a qualified to teach Yoga Therapy and Yoga Nidra, and will be including her knowledge of these into the holiday. Alison is based in London, where her classes are very popular, but has travelled extensively in India. She spent time studying and teaching in Kerala, Tamil Nadu, the Himalayas, Delhi, Mysore and Nasik. During her time in the Himalayas, she taught Hatha Yoga on Yoga Teacher Training Courses. Alison is experienced in teaching to all levels from complete beginners through to advanced levels.
Alison fully believes that yoga should be accessable to all and is always happy to adjust postures when necessary to help students overcome physical restrictions. You always start from where you are and work within your own capability,
The perfect way to relax, energise and find meaning in life!
With her experience of living in India and of traditional yoga teaching, you'll find Alison the perfect person to help you enjoy and benefit from your yoga holiday at Kailasam. You will return home refreshed, relaxed and full of energy!
Sun Salutations, yoga poses and relaxation
The classes at Kailasam will be varied each day. They will include Surya Namaskar (Sun Salutations), yoga asanas , pranayama and relaxation. Some classes will include meditation and Yoga Nidra (a deep relaxation literally called "the sleep of the yogis".)
We are delighted to welcome Alison to Kailasam!
For more information about Alison: www.alisonjohnsonyoga.com
BOOKINGS:
Alison Johnson is teaching a 11-night yoga retreat at Kailasam
14 – 25 November 2022
For prices and to book please email Alison on alijyoga@hotmail.com