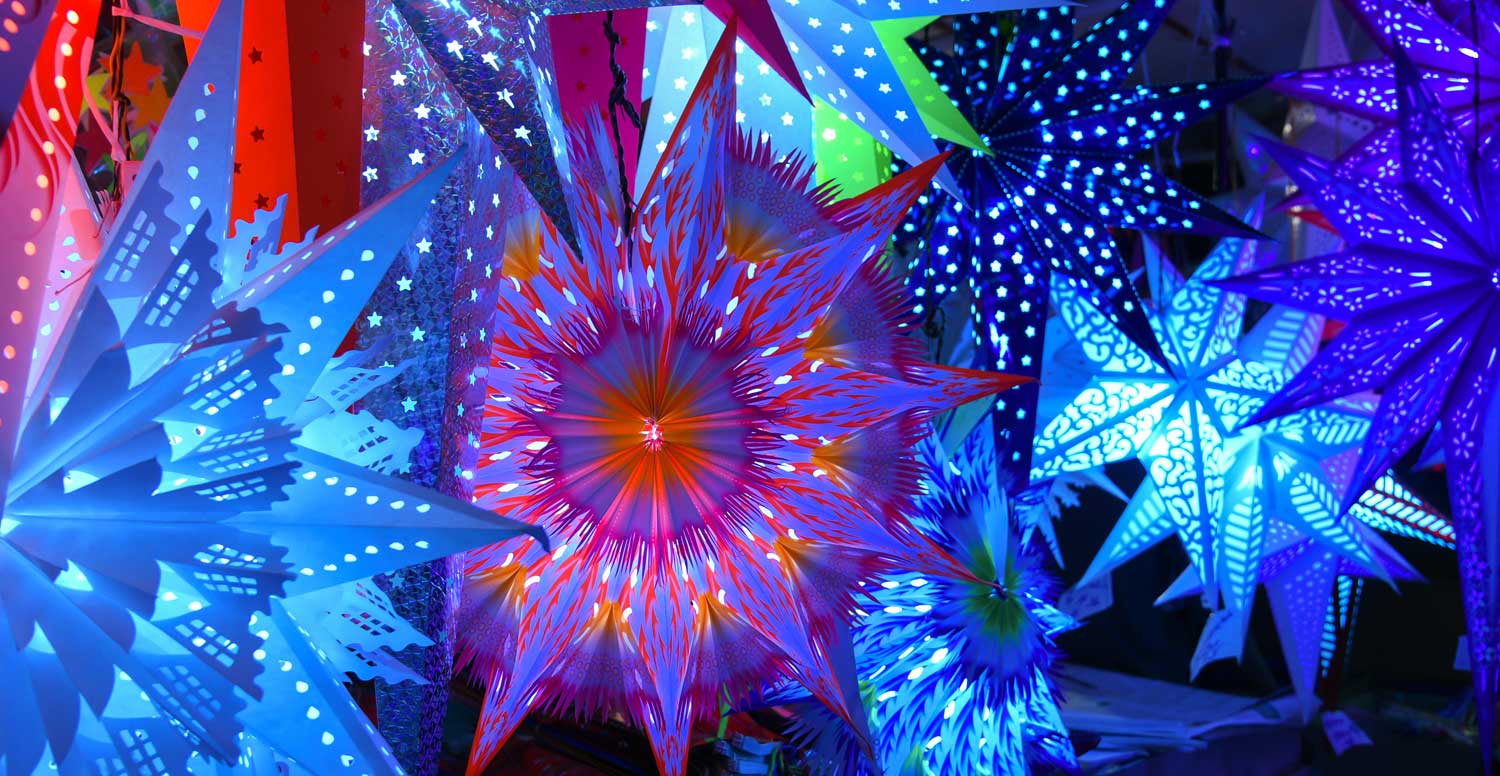 Christmas Magic in Kerala with Diana Shipp
Christmas is the perfect time to escape the dark winter days, relax in a tranquil, friendly place with likeminded people and to enjoy the magic of Christmas in Kerala.
Our affordable Christmas yoga holiday is led by Diana Shipp whose gentle and powerful yoga teaching will relax and restore you.
The essentials
Cost from £940 per person (based on two sharing).
Thirteen nights from 18-31 December 2019 – with option to extend until 1 January 2020.
15 yoga sessions over nine days with renowned teacher and owner of Kailasam Yoga, Diana Shipp.
Three free days to explore Kerala.
Comfortable, friendly yoga centre set in lush gardens, a few minutes walk through the coconut groves to the Arabia sea. Kailasam is a real home from home.
A life changing experience!
It's easy to get busy in our modern world, and to distract ourselves from what is really important. This holiday is an opportunity to relax and take time-out for yourself – with the bonus of being able to enjoy the company of like-minded people when you want.
As well as inspirational yoga classes, take time to walk bare-foot on the beach as the fishermen pull in their nets; read a book; invest in a course of healing and rejuvenating ayurvedic treatments; enjoy afternoon tea and cakes, pakoras and lassies in one of the friendly Kovalam restaurants… and watch the sun slip into the Arabian Sea as you sip a fresh tropical juice – or a beer – at sunset.
Maybe you feel like it's time to make important changes in your life? Daydream, sit and gaze at the ocean… and listen to your inner guidance.
With our special Christmas schedule, there will be plenty of time to go on trips – local or further afield in Kerala. All our trips are good value and we try our hardest to accommodate your specific requests – birdwatching, temples, shopping, sightseeing…. so much to enjoy!
If you prefer you can stay and relax at Kailasam on our days without yoga. We have comfy, shaded day-beds which are especially popular after massages.
Return home feeling totally refreshed…
Christmas Yoga Holiday Programme
Arrival day is Wednesday 18th December. If you travel from the UK or mainland Europe, you'll need to book flights to leave on Tuesday 17th. Yoga begins on Thursday 19th. The last day of yoga classes will be 29th December.
This Christmas we are trying something new to ensure everyone goes home feeling great: nine days of yoga, with three free days throughout the holiday – including the last day (30th December). There will be 15 classes. Check-out is 11am on 31st December – you'll be back in the UK in the afternoon or early evening, depending on your flight time.
New Year
If you'd like to stay with us at New Year, you can add another couple of nights B&B at the end of your yoga holiday. You can also arrive early – for B&B from Sunday 15th December (leaving UK/Europe on Saturday 14th December).
Yoga for all
This holiday is ideal for single people, friends or couples. We have eight simple but comfortable en-suite rooms with memory foam mattresses, ceiling fans, and mosquito nets over the beds and on the windows, hot showers and good lighting.We pride ourselves on our cleanliness – one Swiss guest told us last Christmas that her room and Kailasam were "cleaner than Switzerland"!

You don't need to be a yoga fanatic to enjoy this holiday. The yoga will be gentle yet powerful. It will progress slowly with challenges only if you want them – we're all different ages, shapes and sizes and will be enjoying the practice in our own way to suit individual bodies. Yoga is about finding inner peace, not about acrobatics! We intend that you'll go home feeling fitter and healthier, more energised and, if you have our
rejuvenating ayurvedic treatments
you may even go home feeling years younger. But mostly we want you to go home with a calm and centred mind, a positive outlook and the tools to stay that way in the melee of life…
affordable christmas yoga holiday
A deposit of £250 will secure your place. You pay a final balance of only £690 to share, or £970 for a single room – not due until October 23 2019. All our rooms are ensuite – singles, doubles or twins.
Travel
The nearest airport is Trivandrum (TRV) – only 25 minutes away. Transfers from the airport (in air-conditioned taxi) are included in your holiday. Once you get to Kovalam you'll be met by our porter who will guide you and carry your luggage to your room.
Visa for India
Electronic visas are available on-line for visits of up to 60 days. Please follow the links on our travel page: https://www.kailasamyoga.co.uk/health-and-travel/
book your place for christmas
email diana@kailasamyoga.co.uk for bookings and enquiries. We strongly suggest you book early – flights become scarce and more expensive near to Christmas.