Considering your first holiday in India? Read on!
"I just wanted to say a huge 'Thank you' for such an amazing holiday at Kailasam Yoga." says one guest who stayed with us in November, for Hatha/Sivananda Yoga with Diana Shipp.
"After my initial wobbly start I grew to love it all more and more as time went on. I really appreciate the fact that you upgraded my room.
"It felt like my own little self contained apartment and gave me time and space to adjust. I think I was very lucky to have been in the group with Heather, Paul, Maggie, Jean and Norman and of course yourself.
"I felt everyone was very kind and patient, especially the first couple of nights eating out when I was terrified of curry, salad, water and the fear of Indian tummy (which I never got!) and for helping me ease into the Indian way. It was a great group and I did a lot of laughing.
"I think all your staff are amazing, lovely and kind, and the effects of the holiday are visible for everyone to see in me – especially after being put back together properly by Syam – love that man !!!
"I keep having dreams that seem to be telling me stuff and sleeping really well – am guessing that is the dhara ayurvedic treatment – and everyone keeps saying how well and glowing I look.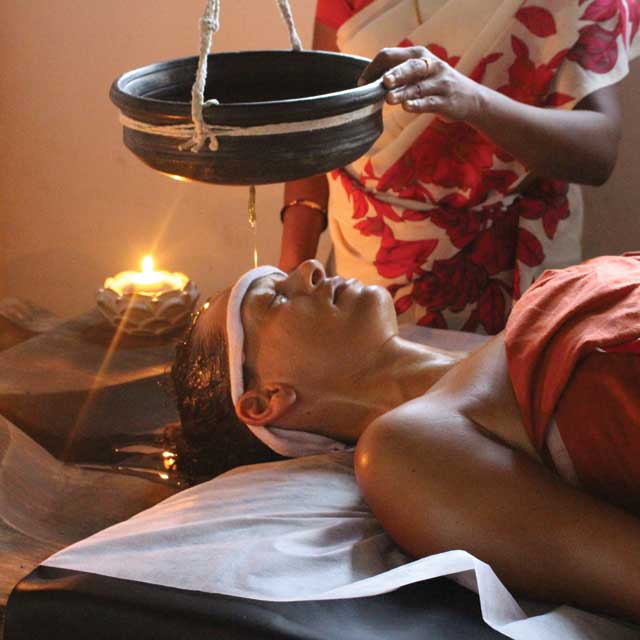 "I think your yoga teaching is very spiritual and special as well as thorough and I enjoyed every class (well maybe not the plank ! Ha ha) I could really tell when I went back to my weekly class how much stronger I have got.
"I believe India has real soul and its people are very warm (certainly in Kovalam anyway) and it all seeps into you without you realizing. I think it has very probably been a life-changing experience for me and I just wanted to say a huge 'Thank you' for providing such a wonderful holiday and the opportunity to experience a beautiful part of India in a way that felt comforting and strangely familiar (whilst being completely different to anything I have ever known), a kind of home from home.
"I hope you are well and that all the staff at Kailasam are well too (and the lovely Dolly-Dog !)
"I truly have missed it since I got back and I am sure I will visit again.
"It has been straight back to work and into the silly season as soon as I got back …… think I could do with another holiday already !!!
"Take care Diana, a million "Thank you's" and love and best wishes for Christmas and the New Year."
Lindsay Kirby, Yorkshire, UK